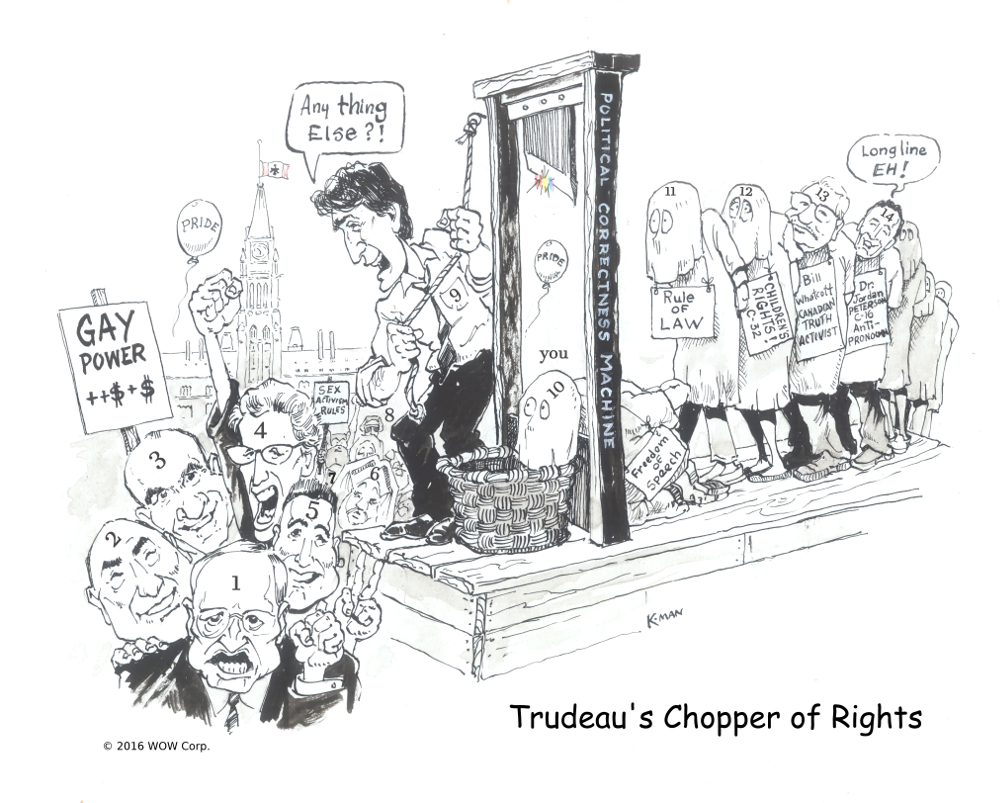 The Players
#1        Doug Elliott – Lead counsel in the Bill Whatcott $104 million lawsuit acting on behalf of George Smitherman and Christopher Hudspeth and the hundreds of thousands of parade marchers that don't know they are part of a class action lawsuit. Elliott is a militant sex activist lawyer, and marched in the 2016 Toronto Pride parade. Elliott went on a radio show the day after the parade (July 4, 2016) and had a hissy fit over the political stunt pulled by Black Lives Matter during the parade. He claimed, "The homophobes treat us better." Elliott also attended the "Town Hall" meeting on August 30, 2016 organized by Pride Toronto to discuss the antics of Black Lives Matter. During the time when questions were being taken, Elliott stood up and started begging the attendees to pay attention to his lawsuit against Whatcott. 1.5 people clapped – sort of.
Elliott is also "Chair" and one of the authors of the Just Society Report ("Report") produced by the sex activist organization once known as EGALE. EGALE has been the organization that has pushed and bullied sex activist propaganda into the schools and the minds of our politicians. EGALE has long had a "charitable" organization affiliated with it to finance their political assaults on Canadians. Elliott also supports Dr. Rev. Brent Hawkes. Hawkes is awaiting judgement in his criminal case for sexually abusing teenage boys when he was a teacher. Elliott is heading up the fundraising campaign for him.
Much more to come on Mr. Elliott!
#2        George Smitherman – Named plaintiff in the Whatcott lawsuit. Smitherman is a former drug addict and promoter of risky sex involving HIV positive partners. He is a liberal politician who lost a mayoral race to Rob Ford. Smitherman is the poster boy for Gay Privilege. Somehow he was permitted to adopt two children despite the fact that his partner, Christopher Peloso, had long standing serious mental health problems that led to at least two public searches when he went missing. The last search ended tragically; Peloso committed suicide. Smitherman went public with the reasoning behind Peloso's suicide. He blamed the need to take care of the adopted children, stating in the interview that Peloso had left his successful job to care for the children and that took away his identity.
#3        Randy Boissonnault, an MP for Edmonton-Centre – New boy toy for Elliott and other sex activists to suck money out of. MP Boissonnault hails from Alberta, so I don't see him lasting too long. I think Albertans have sobered up a bit since their last provincial election and sanity might return. I suspect Canadians will come to know Boissennault quite well. The Prime Minister appointed him on November 11, 2016 as his "Special Advisor" on LGBTQ2 issues. He has a busy and expansive agenda. Apparently he had an interesting meeting recently with members of the sex activist community just prior to the announcement on lowering the age of consent for sodomy and a number of other issues that Canadians will be outraged by.
#4        Premier Kathleen Wynne – Whatcott lawsuit plaintiff and the Premier of Ontario who was married to a man, had three children, decided she was a lesbian late in life, booted her husband into the basement to live, and moved her lesbian friend into the house. The "friend"-cum-"partner" admitted during a candid interview that the children were not happy with this arrangement and it took a long time for them to adjust. Premier Wynne's son recently declared he is "gay." Like her home life, Premier Wynne incorporates the same modus operandi—screw you, your dad is irrelevant—with her kids as she does with Ontarians. It appears that she doesn't care how much it costs or how stupid or unstable she appears or how much harm comes to children; it's all "screw you" politics. Ontario will have an election within a year or so, so please vote on the side of sanity this time.
#5        Christopher Hudspeth – Whatcott lawsuit plaintiff and former "caregiver" to a homosexual activist that died and apparently left him some sort of control over his money. Hudspeth bought a bar that caters to drag queens, the gay community and the Black Eagle Kennel Klub—a group of mostly men who dress up as dogs and engage in "pup play" while their "trainers" watch. Apparently the "pup play" can get "ruff," so it's a rule that anally inserted tails can not be pulled.
#6        A "sister" from the Sisters of Perpetual Indulgence – Yep, Plaintiffs in the Whatcott lawsuit, but they might not know it. Elliott hasn't told too many people yet that he added them to this class action. The Sisters are a kinky group of men that mock religion among many other things. It will be interesting when Elliott has to disclose all their names as they hide behind a lot of make up.
#7        The "Pup" from the Black Eagle Kennel Club! You guessed it, they marched, tails a wagging, with their owners bursting with pride in the Toronto Pride parade and therefore are a member of one of the affected "classes" that is suing Bill Whatcott for "harm," "trauma" and "provable mental distress." (Don't laugh, if a man can identify as a woman, or vice versa, and get all the rights, perks and benefits Trudeau is bestowing upon them, then these "Pups" should be next in line! Feelings are feelings after all!)
#8        Crowd – Bill Whatcott plaintiffs! Kids, parade watchers, marchers… there are tens of thousands of them!
#9        Just adore me Justless Justin – Yes, our not-so-tough, yoga will help calm me, Prime Minister whose feelings were hurt and provable harm came his way as a result of the green Zombies' attendance in the Toronto Pride parade. Between his penchant for outbursts, and his near tears when confronted with disapproval, Canadians have to endure a few more years of Charter Right Regression until we can remedy the situation. Welcome to the era of Trudeau's Chopper of Rights. It will be interesting to see if our right to life will survive.
The Choppees
#10      Freedom of Speech – Casualty of the Chopper. By being a party to the Whatcott lawsuit, Trudeau is clearly slicing to the point. Political protest is not acceptable in Trudeau's totalitarian sex activist utopia. Either that or someone is blackmailing him into submission.
#11      Rule of Law – Casualty of the Chopper. The courts have been out of control for a long time. There are a number of cases that demonstrate the court overstepping their authority. Civilian oversight is long overdue. Judicial accountability is long overdue. The Canadian Judicial Council is a joke. Trudeau has no respect for the Rule of Law and will not change things.
#12      Protecting Children, respecting the family unit – Casualty of the Chopper. Trudeau's anti-parent, anti-child agenda will result in harm to this nation and our children. Trudeau's willingness to cater to sex activists and their desire to abuse children is inarguable. Bill C-32: Lowing the age of consent for sodomy while rates of sexually transmitted diseases are on the rise, some causing death, either speaks to the Prime Minister's stupidity, his own sexual inclinations or his own political survival, a cost he is willing to pay by making children vulnerable to sexual predators and physical harm.
#13      Bill Whatcott – In line for the Chopper. At some point politicians and the courts will come to realize that they have been played, manipulated, bullied and lied to by a few sex activists. Bill Whatcott has been a leading force in bringing truth to this issue. Trudeau, by being a party to the lawsuit against Bill, proves his fear of the truth, his despisement of our Charter of Rights and freedoms and the liberties guaranteed therein. BillWhatcott.com
#14      Dr. Jordan Peterson – Premier Wynne is chomping at the bit to get him! His crime? Being a respected professor who refuses to bow to the god of political correctness and knows how to talk about it, and that makes him a threat! JordanbPeterson.com
#15 That's you! Common-sense Canadians. Did you happen to question the wisdom of outlawing spanking? Do you believe you had the right to question government spending? Did you believe as a Canadian you had the right to know the legal test before you went to court? Should judges have to obey the law? Do parents have rights in public education? Should teachers tell 10 year old children how to give a blow job? Should you cease using the pronouns "he" or "she"? Do you think we should impose a tax on those who engage in socially irresponsible sexual practices?
Be careful. You could be on Trudeau's chopping block depending on how you answer any of these questions!